Orange County Workers' Compensation Attorney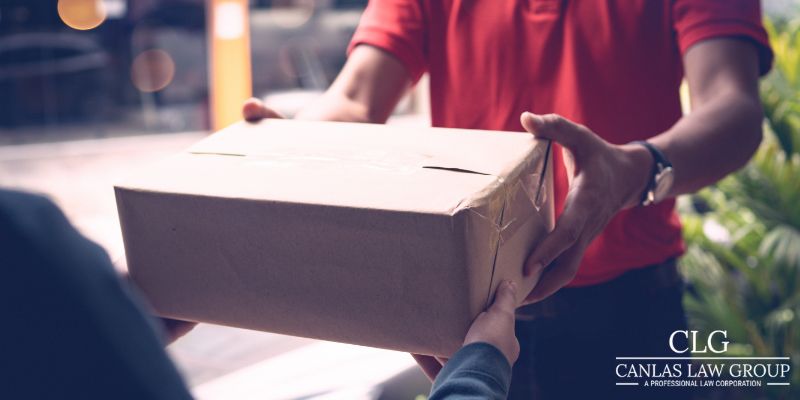 Everyone working in Orange County faces the risk of suffering an injury at work, even if they perform their work duties in a relatively safe environment. However, some jobs are inherently dangerous, especially those that involve driving. FedEx and Amazon delivery truck drivers face the risk of an accident every time they head out on the road. Distribution center workers also face risks from lifting and carrying heavy packages and loading delivery vehicles. If you or a family member recently suffered any work-related injury while working for FedEx or Amazon in Orange County, a workers' compensation attorney is the ideal resource to consult.
Helping Injured FedEx and Amazon Delivery Drivers in Orange County, CA, With Their Workers' Compensation Claims
Canlas Law Group is a seasoned team of attorneys with years of professional experience handling all types of work injury cases for clients throughout Orange County. If you have suffered an injury as a delivery worker, you are likely covered by your employer's workers' compensation insurance, but you may have additional options to improve your recovery depending on how your injury occurred. We can help you make clearer sense of your situation and minimize the time required to recover compensation after a work-related injury in Orange County.
Filing a Workers' Compensation Claim in Orange County
Almost every employer in the state must have workers' compensation insurance under state law. FedEx, Amazon, and other delivery services in the state all have workers' compensation, and injured workers can typically expect suitable benefits after they sustain work-related injuries. The workers' compensation system may appear straightforward at first, but many injured workers in Orange County and throughout the state encounter unexpected difficulties with their claims that they cannot resolve on their own.
When you suffer any type of work-related injury, you should report it to your supervisor immediately and seek medical care. If you were injured in a vehicle accident while performing delivery work for Amazon or FedEx, you may require emergency treatment and will be transported to the nearest hospital by first responders. Once you notify your employer of your injury, they should create an incident report and provide you with the forms you will need to file your workers' compensation claim.
If your employer interferes with your claim or denies you access to the materials needed to file your claim, an Orange County workers' compensation attorney can help address any such issues you encounter. If your employer fulfills their obligations, part of your claim filing process will be undergoing a medical evaluation from a workers' compensation physician. They will assess the severity of your injuries and assign you a disability rating, which will influence how much you can receive in benefits from the insurance company.
Understanding Your Workers' Compensation Benefits
The average injured worker can expect to receive two types of compensation from a successful workers' compensation claim. First, they will have all their medical expenses covered by their employer's insurance carrier. This includes the cost of ongoing rehabilitative care they will need to reach maximum medical improvement. Second, the insurance company will pay them disability benefits that reflect their inability to work during their recovery. It's possible for a claimant to qualify for partial disability benefits if they can handle lower-paying work during recovery, but if they cannot work at all, they will receive total disability benefits.
When an injured worker is awarded total disability benefits, they will be paid weekly for up to 104 weeks. Each payment will be roughly two-thirds of the claimant's average weekly wage based on the prior year's earnings. If a claimant was left permanently disabled, they may qualify for an extension beyond the typical 104-week limit.
Filing a Third-party Claim After a Delivery Truck Accident
While workers' compensation insurance typically prevents an injured worker from filing a civil suit against their employer after a work-related injury, there are exceptions to this. If your injury happened because of a third party outside of your work, this could enable you to pursue additional compensation beyond what workers' compensation insurance provides. For example, if you are a delivery truck driver for Amazon or FedEx and a distracted or intoxicated driver crashes into your vehicle and injures you, they become liable for any damages your employer's insurance doesn't cover.
Your Orange County workers' compensation attorney can help you understand any available options for legal recourse outside of the workers' compensation system. If you have grounds to file a third-party claim, your attorney's help will be critical when it comes to maximizing your recovery. As long as you can prove the third party is directly responsible for causing your injury, you can seek compensation for any damages that workers' compensation can't provide. This means you could potentially recover the portion of your lost income that you cannot recover through workers' compensation, along with compensation for your pain and suffering.
Any delivery truck accident has the potential to inflict severe injuries, and the state does not place a cap on pain and suffering compensation in vehicle accident claims. Your Orange County workers' compensation attorney can provide critical assistance when it comes to maximizing the pain and suffering compensation you win from a third-party personal injury claim, especially if you have suffered severe injuries resulting in permanent harm.
Canlas Law Group is ready to provide the legal counsel you need in this difficult situation. We have guided many past clients through the workers' compensation claim filing process and helped some pursue additional compensation with third-party personal injury claims. You can rely on our firm for ongoing support and reassurance through every stage of your recovery efforts, and the sooner you reach out to our team, the sooner we can begin working on your case.
Delivery Driver Work Injury FAQs
Can I Sue My Employer for an Injury at Work in Orange County?
Workers' compensation insurance typically protects employers from civil liability for their injured workers' damages. However, if your employer does not have insurance as required by law, you can file a personal injury claim against them in response to your work-related injury, and they will face additional penalties from the state. If a third party caused your injury, such as a driver who hit you while driving a delivery truck for work, you may have grounds for a third-party personal injury claim in addition to your workers' compensation claim filed through your employer.
What Are the Most Common Injuries Among FedEx and Amazon Delivery Workers?
Anyone who drives a delivery truck for work faces the same risks on the road as any other driver. Accidents may happen because of speeding, distracted driving, or intoxicated driving. Delivery workers must also physically get out of their vehicles to deliver parcels to customers' doorsteps, which can leave them vulnerable to injuries from passing motorists. Delivery workers also face the risk of acute injuries from lifting and carrying heavy packages, repetitive stress, and heat-related injuries.
How Much Can I Receive in Workers' Compensation Benefits?
The average injured worker in the state can expect to receive full coverage of their medical expenses along with limited coverage for their lost income following the accident. The exact value of a workers' compensation claim in Orange County typically depends on the income the victim earned prior to their injury, the severity of their injury, and how long it could take for them to recover fully enough to return to work at their prior earning level.
How Much Can I Claim in Pain and Suffering Compensation?
Pain and suffering compensation is not available through workers' compensation insurance. However, if you were injured on the road due to the actions of a third party, you could file your workers' compensation claim through your employer before filing a third-party personal injury suit against the driver who caused your accident. This would enable you to claim pain and suffering compensation, and California does not enforce a limit on pain and suffering compensation in most personal injury claims. Your Orange County workers' compensation attorney can help determine a suitable amount to reflect the severity of your injury.
How Much Does It Cost to Hire an Orange County Workers' Compensation Attorney?
Canlas Law Group can provide the legal counsel you need for your work injury case without adding to your financial concerns with expensive attorneys' fees. We take these cases on a contingency fee basis. This means you will only pay our firm a fee if and when we win your case, and the fee is a percentage of the total compensation we recover for you. There is no fee at all if we are unable to recover compensation for your injury, so this billing policy enables you to approach your legal proceedings with confidence and peace of mind.
The right attorney is an invaluable asset after any work-related injury in Orange County. This is especially true for FedEx and Amazon delivery truck drivers, who often have more options for legal recourse than the average individual employee. If you need help with a workers' compensation case and a related third-party claim in Orange County, we can help. Contact Canlas Law Group to schedule a free consultation with our team and learn how an Orange County workers' compensation attorney can assist with your recovery.