Orange County Construction Site Accident Attorney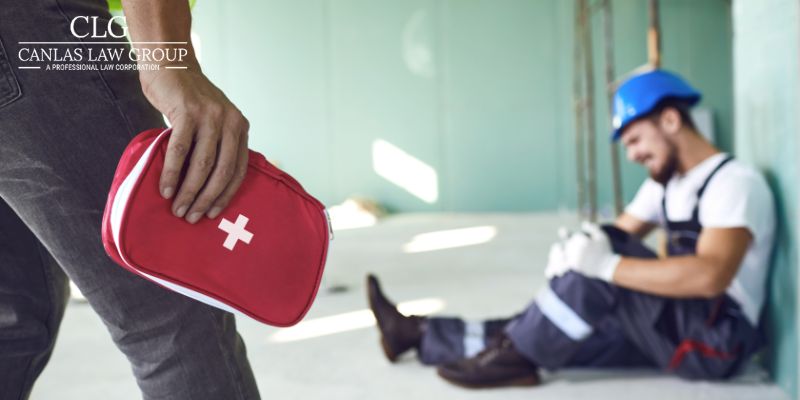 Working in construction is not without its risks in Orange County, CA. In fact, construction is the fourth most dangerous industry in terms of the number of worksite accidents that result in death. It also ranks as the seventh-most dangerous industry in terms of nonfatal workplace accidents. The fact is that accident injuries occur every day at construction sites across the country.
Unfortunately, the majority of these cases are due in part to human error, such as a lack of appropriate safety measures, like harnesses and railings, or an absence of appropriate markings for floor openings. Therefore, most construction-related incidents result in workers' compensation cases, and insured construction workers who hire an attorney to assist them with their claims tend to have better outcomes in personal injury and workers' compensation claims than those who don't.
Canlas Law Group is an Orange County construction site accident law firm. We have extensive experience with workers' comp cases and knowledge of state laws regarding compensation for accident injuries that occur in construction. Our attorneys take a personal approach and have a passion for obtaining the compensation that our clients are entitled to. We maintain a relationship with each of our clients and get to know their needs. That way, we can provide the legal services that they need to help them finalize their case and move on with life. As compassionate as we are in understanding our clients, we are aggressive in fighting to protect their rights. To attest to our success, we have recovered millions of dollars for our clients.
Types of Construction Accident Injury Claims
The most common types of work-related injuries occur frequently at construction sites. The top injuries that result in construction site claims fall under these four categories:
Exposure to toxic substances and environmental effects
Overexertion and reactions of the body
Slip, trips, and falls
Contact with equipment or objects
While any type of personal injury could occur at an Orange County construction site, some possible examples from each of the above categories that qualify as legitimate workers' compensation claims are listed below.
Overexertion and Reactions of the Body
Injuries from non-impactful stress on the body can result from exertion of excessive physical strength toward an external object, such as carrying or lifting heavy items or moving objects that require an overt amount of bodily strength. They may also result from pushing, holding, throwing, or turning items that require extreme strength.
Repetitive micromotions or actions may not require a lot of strength, but they exert stress or strain on a part of the body due to their repetitive nature.
Slips, Trips, and Falls
Slipping or tripping and instinctively catching oneself to prevent a fall can cause just as painful an injury as falling. It potentially results in different types of injuries than a true fall.
Same-level falling, slipping, or tripping can occur while either standing, walking, or sitting against or onto something on the same level.
Lower-level falling can cause severe injuries. Such situations include:

Falling from a structure that is collapsing
Falling through a surface, such as a roof or floor
Falling from a heightened place, such as falling off a roof, ladder, or similar structure or scaffolding

Jumping from a higher level onto a lower level can be painful and debilitating, but results in different injuries than non-voluntary and uncontrolled falling.
A worker is struck by a moving object, such as a crane.
A piece of equipment or object strikes a worker as a result of the worker bumping into, stepping on, or kicking an object or being pushed or thrown into an object.
A piece of equipment or a number of objects that are either stationary, shifting, or suspended on a wire or rope can result in squeezing, compressing, pinching, or crushing a part of the worker's body.
A structure, equipment, or material strikes, catches, or crushes a worker.
An injury is incurred by the friction or pressure between a worker and the source of the injury.
An injury is caused by a vibration.
A worker gets trapped, struck, or rolled over by an object or equipment.
Exposure to Toxic Substances and Environmental Effects
Electricity exposure (electrocution)
Radiation exposure
Extremely loud noise exposure
Exposure to extreme temperatures for long periods of time (e.g., heat stroke, dehydration, skin cancer)
Exposure to oxygen deficiency
Exposure to harmful substances
Exposure to change of pressure in air or water
Traumatic brain injury (TBI)
Can Construction Companies Get Sued by Their Employees for Injuries?
California's state workers' compensation system is meant to protect employers from getting sued by their employees when they are injured on the job. This is true for construction companies as well. Employers are required by law to carry workers' compensation insurance coverage for their employees so that, if a worker is injured at a construction site, they can receive compensation for their injuries. Furthermore, in most cases, employees are only allowed to file a workers' compensation claim through this system and not through the courts. The only exception to this is when an employee can prove the actionable negligence of a party, such as the construction company, a property owner, an automobile owner, an insurance company, or a government agency.
Employees are not allowed to sue their coworkers or their employers when they experience a work-related injury caused by any of the following events or similar events:
Chemical spills
Explosions
Arc flash
Falling construction materials
Electric shock
High-pressure release
Blows to the head
Collapsed trenches or scaffolding
Falls
Equipment malfunction
Any other freak occurrence
However, general contractors and subcontractors are required by law to obey OSHA safety regulations and practice site safety at all times, though they may not. This includes:
Providing warnings to workers of potential hazards on the job site
Hiring employees with caution and diligence
Meeting safety standards
Supervising in compliance with safety specifications of all equipment, materials, and duties
In some situations, defective products and irresponsible supervisors may be held liable for personal injury. Workers who feel that they were injured due to the negligence of an equipment manufacturer, a construction site owner, an architect, or another liable party should speak to a personal injury attorney as soon as possible. An experienced attorney can advise a victim regarding the most appropriate way to handle their case to get the compensation and restitution they deserve.
Non-Worker Injury
In some situations, there are individuals on or near construction sites who are not employees or workers, but they sometimes get injured, nonetheless. These victims are eligible to file personal injury claims against the at-fault party who was responsible for their injury, whether that be:
The construction company
A management company
A general contractor
A subcontractor
A property owner
Any other liable party
Some claims filed by bystanders who were hurt while visiting a construction site or a location adjacent to or nearby a construction site include the following injuries:
Fractured bones
Loss of limbs
Paralysis
Partial or full blindness
FAQs About Orange County Construction Site Accident Laws
What Is the Most Common Injury on a Construction Site?
The most common construction company injuries are due to falls. Personal injury claims filed for construction accidents often cite falls from cranes, scaffolding, ladders, roofs, interior structural frameworks, and other high places. Falls are responsible for about 35% of all construction site accidents due to a lack of appropriate construction site safety measures.
What Are the Most Common Causes of Construction Accidents?
The majority of construction site accidents are a result of:
A worker falling
A worker being struck by an object or equipment
A worker getting caught between moving or fixed objects or within a trench or excavation
Electrocution
Extra cautionary measures should be taken at job sites to lower the risk of these types of injuries.
How Do Accidents Occur at the Construction Site?
Most accidents at construction sites occur due to:
Failure to follow safety protocols
Failure to use cautionary equipment and take cautionary measures
A lack of safety training among workers
For example, many accidents are the result of:
A lack of safe-fall and no-fall protection equipment for workers on heightened surfaces
Failure to implement safety measures on the ground against falling objects
Failure to clear walkways from hazardous materials, debris, and equipment
What Is a Construction Accident?
A construction accident is when a worker is injured amid repairing, demolishing, building, remodeling, restoring, cleaning, or clearing of property using heavy equipment and in dangerous conditions. Because construction sites are prone to hazardous activities, construction workers are at high risk of being injured and must take extra precautionary measures when on site.
Working With an Orange County Construction Site Accident Lawyer
There are a lot of things going on at any given time at a construction site, and the insurance adjusters who are responsible for determining an injured worker's settlement amount will try everything they can to justify not paying a construction accident claim. This is why it is imperative to work with an experienced Orange County construction attorney with a proven success record.
When you are looking for quality legal service for a workers' compensation claim, contact Canlas Law Group. We are a compassionate and vetted firm that can help you aggressively go after the insurance company for the most amount possible for your settlement. Without an attorney, you may have to settle for their lowest offer, but with Canlas Law Group, you can get maximum compensation.