If you suffer an injury at work, you are likely covered by your employer's workers' compensation insurance policy. However, the nature of your employment dictates your eligibility, as some workers are exempt from workers' compensation. If you are a temporary worker, you may qualify for workers' compensation if your employer meets specific criteria.
California legislators recently extended workers' compensation coverage to a greater number of temporary workers in the state, but there are still limitations to which temporary workers are covered. If an employer has fewer than 25 total employees, including temporary workers, or if they have fewer than five total temporary workers, their temporary workers are not covered by their workers' compensation insurance. Additionally, temporary workers are only covered if they perform work consistent with the usual operations of the employer.
Some employers, unfortunately, try to classify employees in certain ways, specifically to avoid covering them for workplace injuries. The state has cracked down on these practices, but many workers, especially temporary workers, do not know the full breadth of their legal rights under their employers' insurance. Consulting a workers' compensation attorney is a critical first step toward recovering the benefits you need after any injury at work.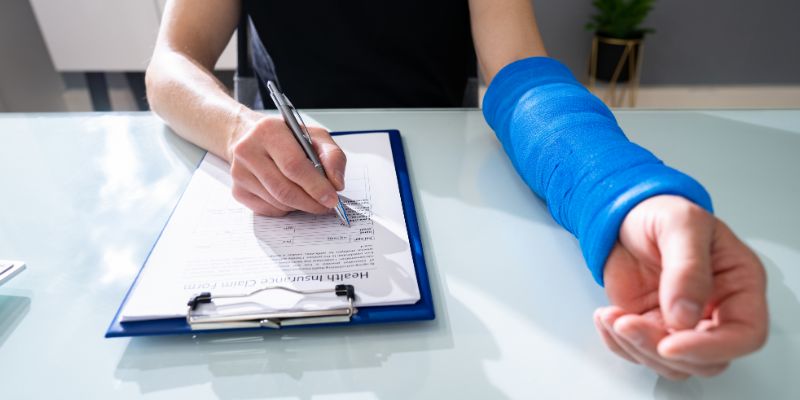 Filing a Workers' Compensation Claim as a Temporary Worker
It's natural to have concerns about your ability to secure workers' compensation benefits if you are employed as a temporary worker, but as long as you are non-exempt under state law, you have the same right to workers' compensation benefits as a regularly employed worker. If you work through a temp agency, it's possible that their workers' compensation insurance will apply, or the employer for whom you were working will have their insurance come into play. This is usually dictated by the contract between the employer and the temp agency.
Once you determine how to file your claim, you will follow the same process as any other injured employee. Your employer may not interfere with your claim or retaliate against you. After reporting your injury at work, they should provide you with the materials needed to file your claim for benefits, and you will need to undergo a medical evaluation with a workers' compensation physician.
This review will determine the scope and severity of your condition after the injury and dictate how much you can expect in benefits. Like any other regularly employed injured worker, an injured temporary employee covered by their employer's workers' compensation insurance is entitled to full compensation for all medical expenses they incur from their injury, including future medical treatment costs if they need ongoing care. Additionally, they will receive temporary disability benefits until they are able to return to work. If you are unsure how the timing of your work injury could relate to the time of your temporary work contract, you should consult an experienced workers' compensation attorney. They can review all relevant contracts to ensure you receive appropriate compensation under California law.
FAQs About Workers' Compensation for Temporary Workers in California
What Is the Maximum Temporary Disability Rate for Workers' Compensation?
Most injured workers who qualify for workers' compensation will receive temporary total benefits if they cannot work until they recover from their injuries. While the amount they can receive depends on their average weekly wage prior to their injury, there are limits to how much a claimant can expect in temporary total disability benefits. As of 2023, the minimum rate has increased to no less than $242.86 per week, and the maximum payment possible is $1,619.15 per week.
How Do I Extend My Temporary Disability Benefits?
California law typically limits temporary total disability benefits to no more than 104 weekly payments. These payments can be spread over a five-year period, but it is also possible for an injured worker to qualify for an extension. They must undergo an additional medical examination to prove that they are still unable to work. When the claimant receives their final benefit payment, they will also receive a form for them to have this medical evaluation completed. Ask your attorney if you are unsure how to extend your disability benefits, and they can assist you in meeting the requirements.
Can I File a Personal Injury Claim if I'm Hurt at Work?
Technically, no, you cannot file a personal injury claim against your employer for a workplace injury if your employer has appropriate workers' compensation insurance coverage. If they do not, then you have the right to file a claim against them, and they are fully liable for your damages. Alternatively, you could have the right to file a third-party personal injury suit if any third party caused your injury. This would enable you to secure workers' compensation benefits as well as compensation for any damages not covered by workers' compensation.
How Long Does It Take to Receive Benefits After Filing a Workers' Compensation Claim?
As long as your employer fulfills their responsibilities and the insurance company handles your claim in good faith, it should only take a few weeks to resolve your claim. Having an experienced workers' compensation attorney assist you with the claim will significantly improve your overall experience with the claim filing process. You will also be ready to address any disputes against your claim, and you will more likely secure maximum benefits with their assistance.
How Much Will It Cost to Hire a Workers' Compensation Attorney?
The majority of workers' compensation attorneys representing clients operate on a contingency fee basis. This means the attorney only takes a fee once they win their client's case, and the fee they take is a portion of the total amount recovered for the client. There is no fee if the attorney is unable to secure compensation for their client. This billing policy enables the injured worker to have the legal counsel they need regardless of their financial situation.
Canlas Law Group can provide the legal counsel you need after a workplace injury, whether you are a full-time employee or a qualified temporary employee. Our firm has helped many clients throughout the state with their workers' compensation claims and related legal matters, and we are ready to put this experience to work in your case. Contact us today to schedule a free consultation with a workers' compensation attorney you can trust.